Today's tip is coming from my colleague, Ankita Thakkar. Ankita has more than a decade of experience working as a scientist in publicly traded pharmaceutical companies.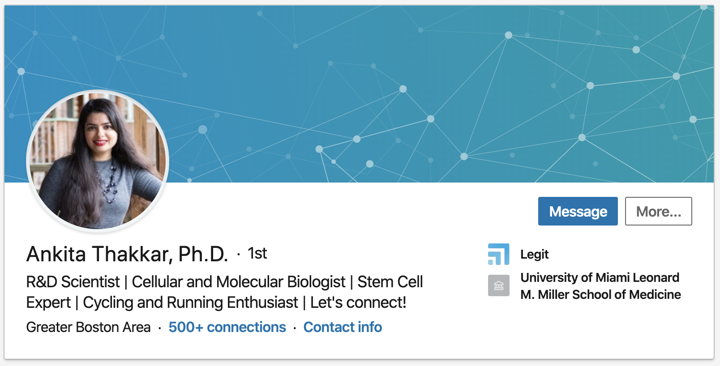 As an author of multiple peer-reviewed publications, her unique perspective can give all of us a better idea of how Legit can be used within a pharmaceutical R&D scenario - from hypothesis validation to taking a drug into a clinical-stage, and beyond.
Let's hear it from Ankita:
As scientists, we all get ideas here and then. But sometimes, it can be hard to prioritize the most promising ones.
Imagine I get this idea to combine PD-1 inhibitors with another drug to make them more efficacious and reduce their chances of resistance. While it seems like a great idea, there's some preliminary due-diligence to do to validate this hypothesis, but also to ensure that I am not reinventing the wheel.
To do that, I would log in to the Legit platform and search for "therapeutics strategies in renal cell carcinoma" to check if anyone has tested the combination of these 2 drugs in RCC to ensure that no one has tested this before. As a scientist, it's fantastic to do this through Legit, as I am able to quickly search through research articles, patents, and clinical trials in one unified session. This saves me a tremendous amount of time.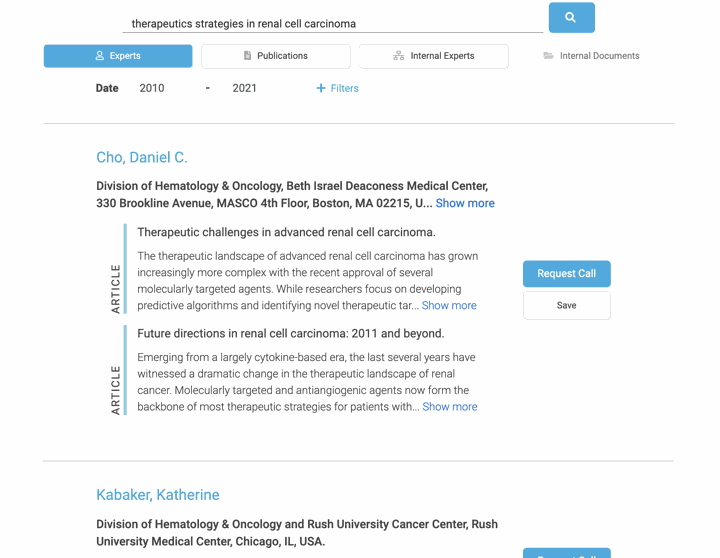 Next, I'd want to test the hypothesis, so I use Legit to identify the in vitro models to test these drugs. Using the platform, I discover that a professor at a university has generated primary cell lines for RCC and he's the only person in the world who has done this. 
In the past, this could have been a very common nightmare scenario for me and my colleagues, since reaching out to one person in a world of 7.7 billion people can be like staring through a black hole. But with Legit, I can speak with that person within 24 hours and gain access to information that no one else in the world has.
Speaking with the source behind the research allows me to gain insights that have never been published. In this case, we can discuss the different model systems that he has established, which ones would work best for my hypothesis, and access these rare cell lines to test my compounds. And this is huge! For the first time in history, researchers like myself and experts can easily establish win-win collaborations: on one hand I can access better information, at a faster pace, and directly from the source. And on the other hand, thanks to their collaboration, experts can gain authorship in future derivatives of their work as well as financial compensation. 
After a thorough preliminary investigation, we find that the 2 compounds are highly efficacious in the primary cell lines. Success! 
Next, it's time to test the two drugs through in vivo mouse models but there are so many variables and questions…. What's the best way to test these compounds? Which mice strain should I use? What is the ideal dose and route of administration?
While I could start testing some educated assumptions, the process could be significantly longer. To shorten the learning curve and speed up the test process, I can once again head to the Legit and run a query for "in vivo renal cell carcinoma models" to identify the top experts. Given that the platform also searches for internal experts, I can look within my company's network to find co-workers who have conducted animal studies in cancer even if they are on the other side of the world. 

Legit allows me to instantly connect with co-workers I would have not been able to meet otherwise, and thanks to this conversation, I have a plan to test the 2 compounds in vivo. After a few attempts, our team now has data to show that the combinational treatment is highly functional in this cancer subtype in preclinical animal models. This process would have been significantly longer if we had multiple trial and error rounds. 
To move the compounds to the clinical stage, I use Legit to connect with 5-10 clinical experts affiliated with hospitals. An oncologist becomes highly interested in my preclinical data and wants to collaborate on this project. Thus, he becomes the lead clinical investigator to recruit RCC patients in clinical trials.
Legit helped me establish and validate my idea by identifying experts with speed, efficiency, and less risk. And this is how, as a researcher, I am able to take a simple hypothesis through the preclinical stage all the way to a clinical setting with minimal risk.
Curious to see how your R&D team could use Legit? Create a free account. 
Click Here To Get Started